[ad_1]

Located about 30 miles northeast of Atlanta in Gwinnett County is the town of Duluth. It's a decent-sized community of about 32,000 and the location where a teenager vanished in 2007, never to be seen again.
Justin Gaines, 18, was a freshman at the Oconee Campus of Gainesville State College (now the University of North Georgia), just outside Athens. His mother, Erika Wilson, and stepfather, Steven Wilson, lived in Snellville, 40 miles west of the college and close to Duluth.
On November 1, 2007, Justin told his mother he was going with friends to Wild Bill's (now Atlanta Coliseum) nightclub in Duluth. Wild Bill's could hold up to 3,700 patrons. Think Gilley's in Dallas only on a smaller scale, and you have Wild Bill's. Miranda Lambert performed there on November 3, 2007, and Billy Currington in 2006, to name a few.
Several nights a week, country music bands performed, except on Thursdays. Those nights were Thirsty Thursdays, and a local DJ played Hip Hop and dance music. Justin was a regular patron. A person had to be at least 18 to enter Wild Bill's and 21 to drink alcohol. He would use two fake IDs to buy alcohol. One of them gave the name Brad Allen, the one he used that night.
Justin and his roommate, Chris Beyers, who attended Athens Technical College, hopped into Justin's car and went to Snellville. Justin dropped Chris off at Chris's girlfriend's house and then drove to his mother's home to prepare for the night out.
Chris and his girlfriend borrowed her father's car and later picked up Justin.  
The three of them swing through a QuikTrip on Five Forks Trickum Road, where Justin fills a fifty-two-ounce fountain drink with two-thirds Rooster Booster Energy Drink and, back in the car, tops it off with bottom-shelf vodka. In the fifteen-minute drive along the winding road to Wild Bill's, Justin downs almost the entire drink. It is, after all, a cheaper alternative to vodkas at the bar. The trio rush to the VIP entrance line, but they've just missed the 11 p.m. cutoff. Now it's going to cost them $10, and no one wants to pay that much. In the line, though, Justin finds someone who gives him a guest pass. The other two aren't as lucky. (Green 2012)
Chris decided to go home, and Justin told him he would find a ride later. A few of Justin's friends saw him inside the club and said he appeared sober.
The club's CCTV footage captured Justin outside at 1:30 a.m. on November 2, talking on his cell phone. According to Green, Justin made 24 calls between 12:55 a.m. and 2 a.m. to 11 people asking for a ride home. Some did not answer; others declined to pick him up. The last call was to Chris at 2 a.m. Chris also said no because he did not want to wake his girlfriend's father to ask to borrow the car again, especially that early in the morning.
Steven and Erika always told Justin to call them, no matter what time of night, if he needed a ride home. However, he never contacted them.
Justin had money, but he never called a taxi. There are also several hotels in the area, but no one saw him walking toward them or leaving Wild Bill's.
When Justin failed to return home, Erika reported him missing to the police. 
A witness told authorities they saw Justin outside the bar at 2:30 a.m. It appeared he was waiting for a ride. That is interesting because those he called said they declined. Who was he waiting for?
Police and 200 volunteers searched for Justin extensively on the ground and in the air but found no sign of the missing teen.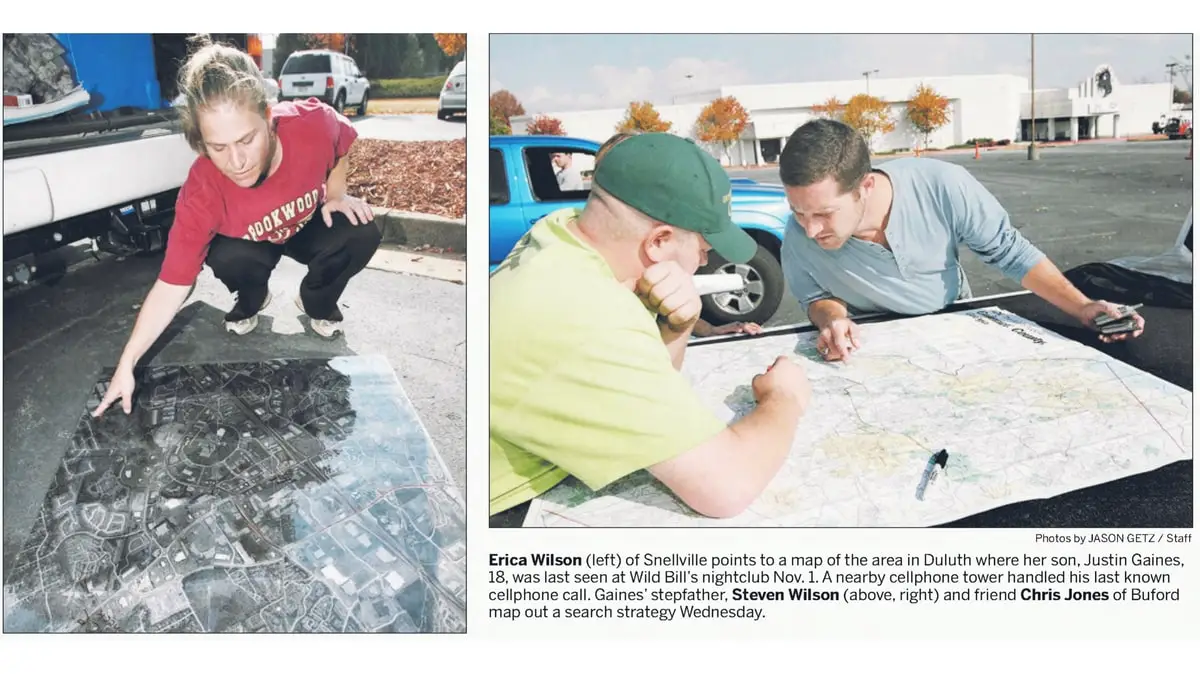 Tim Miller from Texas EquuSearch, whose 16-year-old daughter Laura Miller was brutally murdered in 1984, arrived in Georgia with his team to help search but found nothing.
In February 2008, police announced they had suspected foul play involved. Up to then, they listed Justin as missing, likely because an adult has the right to disappear voluntarily, and there was a chance Justin would show up.
In August 2008, police suspended the investigation when no new leads surfaced.
Erika hired a private investigator named Bob Poulnot, who remained on the case for at least ten years after Justin vanished. Early in his investigation, he learned through witnesses that Justin got into an altercation with two men around 1:30 a.m. when he was last seen on CCTV. However, Poulnot could not find evidence linking the men to the case. Despite his years-long investigation, Poulnot never found answers to Jason's fate.
Then, in 2015, police got a break in the investigation, or so they thought.
One of the people detectives questioned was Dustin Dylan Glass. In 2014, he pleaded guilty to federal and state drug charges, and a judge sentenced him in May 2015 to 14 years as a repeat drug offender.
Gwinnett County Sheriff's Investigator Lt. Col. Sims obtained a photo of Glass inside a Gwinnett County pawn shop in the early morning of November 2, 2007, shortly after Justin vanished.
Sims told 11Alive in 2017:
 "This is a photograph of Dylan Glass the day after Justin Gaines went missing, wearing almost an identical earring. Of course the photos aren't that great, but if you look at it like this and compare them, you're gonna see this earring is pretty much the same as this earring. Dylan Glass has told me, and has confessed in his own way, he said that he took that earring out of Justin's ear the night that he was killed."
On September 2, 2015, police charged Martin Leonard Wilkie, then 57, with concealing the death of Justin. 
The warrant for Wilkie's arrest alleged that he and Glass, 28, assaulted Gaines, then shot and killed him. Wilkie and a third man disposed of the body in a "black metal toolbox."
A woman who admitted to being present corroborated the story, as did Glass's mother, Thelma Ballew.
On August 28, 2015, authorities arrested Ballew on burglary charges. On August 31, she confessed that she helped Wilkie and another man dispose of Justin's body in the High Shoals area near the Apalachee River. Gwinnett County Sheriff's Department spent three days digging up old wells in that area but never found Justin's body. Police charged Ballew on September 21, 2015, with making false statements after she admitted on September 14 to lying to get herself out of the burglary charges. 
Police clarified that while Ballew lied, she did provide some information on Justin's disappearance.
Sims gave the general theory of Justin's demise. Justin had a lot of money on him that night and was wearing a diamond earring. Someone saw him with the cash and the earring, approached him outside the nightclub, and lured him into a car, possibly a blond woman wearing a black dress. 
Then, the woman and Justin drove to a house in Snellville. Investigators believe the place was crowded, which means several possible witnesses were there.
When Justin walked into the garage, assailants beat and choked him, then shot him to death. After stealing his money and jewelry, they drove the body to a houseboat on Lake Lanier, about 35 miles away. The killers attached weights to the corpse and tossed it into the lake.
But the body resurfaced a few days later, so the killers retrieved it, drove it to Barrow or Walton County, and dropped it in a well along the Apalachee River. They actually drove back to check???
But police said it's just a theory, albeit very detailed and similar to Ballew's statement. Investigators recovered the earring, but it did not contain Justin's DNA. Per 11Alive, "The houseboat and van are gone forever. The owner of the van, boat, and house possibly involved that night died just a few months ago." 
While the article does not mention the person's name, it could be Wilkie, although I could not find an obituary for him.
Authorities have never charged Glass in Justin's disappearance.
"When it gets right down to it, when we ask where the body is and we try to put closure to it, he's lied. And we catch him in another lie. He's not credible," Lt. Col. Sims said.
There is one lead that investigators hoped to pursue further.
Kristen Reed writes, "During 11Alive's interviews, investigators revealed that in the days immediately following Justin's disappearance, a woman–possibly middle-aged, possibly a mother–called an anonymous tip line. She talked about a man who lived near the intersection of Pleasant Hill Road and Club Drive, who she thought was involved in Justin's case."
There are apartment complexes near the intersection.
Police appealed to the woman to come forward, but she never did. They have conducted numerous searches for Justin over the years, with the most recent one during the spring of 2022.
Early this year, someone found skeletal remains in Dacula. However, police immediately told Erika they did not belong to Justin. Investigators identified the remains as those of 16-year-old Susana Morales, who had disappeared six months before.
As of this writing, Justin remains missing, and the investigation continues. 
After her son's disappearance, Erika started the JustinTime Foundation "to provide timely support for children/families who suffer the unexpected loss of a parent or guardian," as stated in its mission statement.
In January 2011, Justin's stepbrother, Jeremy Wilson, 18, died from asphyxiation. He was found with a plastic bag over his head, but Steve believes it was a tragic accident and that he did not take his own life.
Anyone with information regarding Justin's disappearance can contact Walton County Sheriff's Office Investigator Michael Rising at 770-266-1556 or email michael.rising@co.walton.ga.us.
Interesting tidbit: Lake Lanier, where the killers supposedly dumped Justin's body, is super mysterious and allegedly haunted (if you believe in that). Some locals refuse to go there. There have been numerous drownings at the lake. Here's an excellent article to read about it. 
Sources
Estep, Tyler. Questions, 2 Arrests in Disappearance." The Atlanta Constitution. September 23, 2015.
Green, Josh. "No Earthly Trace." Atlanta Magazine. March 1, 2012. https://www.atlantamagazine.com/great-reads/justin-gaines/. Accessed on August 2, 2023.
Reed, Kristen. "Ten years gone, a mother's hope: Justin Gaines will come home." 11Alive. November 2, 2017. https://www.11alive.com/article/news/local/missing-in-georgia/ten-years-gone-a-mothers-hope-justin-gaines-will-come-home/85-487960793. Accessed on August 2, 2023. 
Simmons, Andria. "Mom's New Group Aids Others' Searches." The Atlanta Constitution. August 14, 2008.


[ad_2]

Source link