[ad_1]

They say you haven't made it in country music until you've recorded a piece about a breakup, one about a jukebox, and a tribute to Old Hank. Without question, Hank Williams Senior, the Hillbilly Shakespeare, was one of the most influential people ever to perform in American music. As a singer and songwriter, he left an unmatched legacy. He was also a train wreck in his personal life which was a prime factor in what really killed Hank Williams Senior.
There's controversy about the circumstances surrounding Hank Williams's death. It was never investigated by the police but, truthfully, there's no credible suggestion of foul play and no reason for police involvement. The problem lay with the autopsy and toxicology examination of which no written record is available in the public arena—which is so commonly the case in celebrity passings. There's also trouble with certain witness evidence regarding where and when Hank died at 29 years old on New Years Day in 1953.
Before we look at the known case facts and reach a conclusion about what really killed Hank Williams Senior, let's review a history of the man and his music.
Hiram (Hank) Williams was born on September 17, 1923, in the rural community of Mount Olive in Butler County, Alabama. His father was a railroader who was seriously injured and semi-permanently hospitalized leaving young Hank to be raised by his mother. When he was four, the family moved to Georgiana, Alabama, and at ten they settled in Montgomery. From then on, Hank Williams would call Montgomery home.
Hank's musical talent was evident at an early age. He would sing in the church choir and busk on the street. Probably a dozen people have claimed to have given Hank his first guitar but in Hank's own words, he bought it himself with money won in a talent show. In Georgiana, he was mentored by a Blues artist named Rufus "Tee Tot" Payne who, according to Hank, was the only music teacher he ever had. All else, from his rhythm guitar prowess to his genius with lyrics, was self-taught.
Hank's radio debut came at age 13 when he had his own 15-minute live show. At 14 he formed his own band called Hank Williams and the Drifting Cowboys. By the early 1940s, Hank caught the attention of Nashville music executives. He quit school and took his band on the road with his mother as their manager.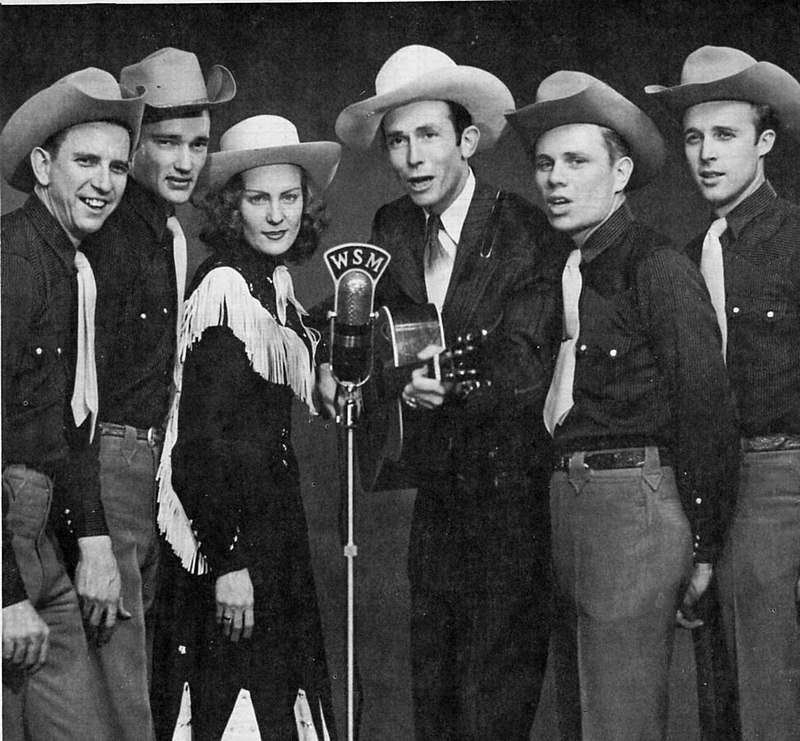 World War II broke up the Drifting Cowboys. All the band members were drafted into military service. All members exact Hank Williams. He was born with a spinal defect termed spina bifida which excused him from the army. The defect caused him lifelong back pain to which he turned to alcohol and painkillers for relief.
In Nashville, Hank met Audrey Sheppard and married her. This produced a son who went on to be a very successful musician on his own—Hank Williams Junior. The marriage quickly dissolved due to Hank Senior's increasing alcohol use which would seriously affect his career.
Over his short time in the music industry, Hank rightfully earned the name "The Father of Country Music". He didn't just change the direction of country—he invented it. His first hit, Move It On Over, was followed by a string of others like Jambalaya, There's a Tear in My Beer, I'm So Lonesome I Could Cry, Hey Goodlookin', and Lovesick Blues. In total, Hank Williams recorded 55 singles that reached Billboard's Top 10 list including 12 that became Number 1 hits. Three Number 1s were released after his death.
Hank William's back pain increased as he grew older. He had a spinal fusion in 1951 and that only worsened the condition. His alcohol and drug consumption also increased and this led to benders of drunkenness and fits of being totally stoned. As such, his fail-to-show rate at performances became out of control. He was finally banned from playing at the Grand Ole Opry because of chronic drunkenness.

Despite his popularity on the charts, Hank was forced to take second-rate gigs to pay the bills. One show was scheduled for New Years Eve, 1952, in Charleston, West Virginia. Due to an ice storm that prohibited flying, Hank canceled the Charleston show and made driving arrangements to attend a next-day performance in Canton, Ohio.
Williams hired a friend's son, 17-year-old Charles Carr, to drive Hank's baby-blue Cadillac convertible from Montgomery to Canton. The pair left Montgomery on the morning of December 31, 1952, under horrible road conditions. Hank rode in the back, stretched out to relieve the pain. He also consumed chloral hydrate capsules as well as an unknown quantity of beer.
When they reached Knoxville, Tennessee, the two took a break at the Andrew Jackson Hotel. Because Hank was inebriated, in deep pain, and relentlessly burping, hiccupping, and complaining of indigestion, Carr called a doctor to examine him. This doctor gave Hank a shot containing morphine and Vitamin B12 to reduce the pain and digestive distress.
They hit the road at about 11 pm, again with Carr driving and Hank in the back. By the time they reached Oak Hill, West Virginia, some 4 hours or 270 miles distant, Carr stopped for gas. He checked on Hank who was lying under a blanket and found him unresponsive, cold, and stiff with rigor mortis already setting in.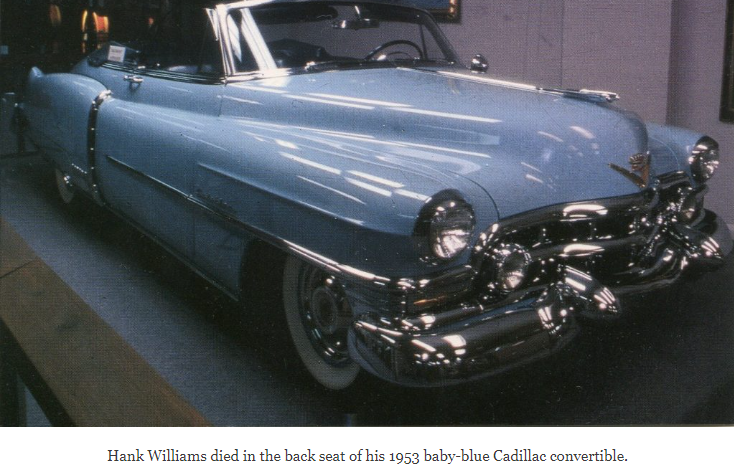 Carr then drove Hank's lifeless body to the Oak Hill hospital where he was officially pronounced dead. The local coroner and mortician, Dr. Ivan Malinin, performed an autopsy on Hank at the Tyree Funeral House. Malinin, a Russian immigrant who barely spoke English, declared the cause of death as being "insufficiency of the left ventricle of (the) heart".
There's no available autopsy report on the internet. And there's no record of any toxicology testing, although some articles refer to there being a sufficient quantity of alcohol being in Hank's blood. There's also no documentation on Malinin's medical qualifications—whether he was an accredited MD in the United States let alone a board-certified pathologist with experience in conducting human autopsies.
The best evidence for drugs and alcohol in Hank William's system comes from Carr, who observed him drinking beer during the trip, the Knoxville doctor who gave him the morphine injection, and the nearly finished chloral hydrate prescription on Hank's person. The mixture of morphine, chloral hydrate, and alcohol (ethanol) is known to be deadly and a prime contributor to a fatal heart attack. The indigestion is also symptomatic of an oncoming cardiac event.
From what history has recorded, there's little doubt that Hank Williams Senior died from cardiac failure/arrest. But that's not what really killed him. I'll defer to my days as a coroner and review how coroners determine the actual cause of a person's death.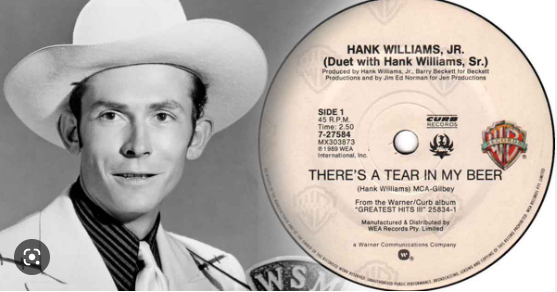 Everywhere in the civilized death investigation world, coroners have the same mandate. Once they've fulfilled this responsibly, the case is closed and never revisited unless there are extreme circumstances to require a second look. In the Hank Williams case, the findings seem pretty simple. He died from heart failure due to excessive drug and alcohol consumption. But it's not that simple.
Coroners have a duty obligation to find the deceased's identity, where they died, when they died, how they died, by what means they died from, and what classification their death falls into.
With Hank Williams, there's no question about identity. His death location cannot be positively established—it was in the back of a car somewhere on the road between Knoxville and Oak Hill. The time of death is somewhat gray—somewhere between 11 pm on December 31, 1952, and 3 am on January 01, 1953. How Hank died is, in all liklihood, a heart attack or what's medically known as a myocardial infarction. That's a very acceptable conclusion.
But what's not so easy to conclude is by what means Hank died. "By What Means" refers to the root cause or underlying event that brought on the heart attack. For example, a person killed by a bullet to the head would have the cause being massive cerebral interruption and the means being a gunshot wound to the head. In Hank's case, the cause being the heart attack and the "by what means" being brought on by excessive drugs and alcohol intake or what's medically known as a poly-pharmacy overdose.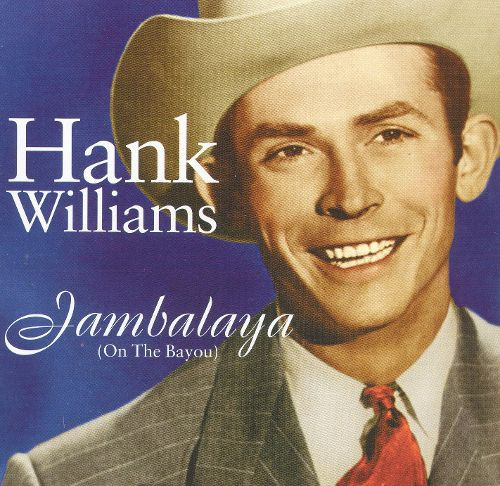 There are five death classifications available to a coroner: Natural, Suicide, Accident, Homicide, and Undetermined. There's no suggestion that Hank Williams' death was a suicide or a homicide. Those can be eliminated. This isn't an undetermined death—his heart suddenly stopped working as the result of too much booze and too many pills. The question becomes whether Hank died from natural causes or if he died as the result of an accidental overdose.
Let's revisit "By What Means". It's not sufficient to stop at concluding it was an overdose-related heart attack. There's more to the story and the root cause or primary contributing event. Hank Williams Senior was a well-known alcoholic and pain pill popper. There's gobs of history to support that—overwhelming evidence of his addiction.
Addiction is classified as a mental disease under the Diagnostic and Statistical Manual Five (DSM-V). Alcoholism is a subcategory of addiction and so is drug abuse whether it's illegal narcotics or pharmaceutical prescriptions. Today, addiction is generally referred to as substance use disorder or SUD. There's absolutely no doubt Hank suffered from SUD.
So taking SUD into account, if I were the coroner ruling on the "By What Means" in this case I'd say Hank died from a massive coronary event, antecedent to polypharmacy excess, antecedent to the pre-existing disease of substance abuse disorder. Because a disease is a medical condition, I'd classify the death as a natural event. And I'd also make a comment on what brought on his SUD. Lifestyle and pain.
I'll end this by saying that a poor lifestyle and chronic pain mismanagement are what really killed Hank Williams Senior.
[ad_2]

Source link