[ad_1]

ASHEVILLE, N.C. — James Thad Styles and Katheryn Styles were married 14 years before Katheryn gave birth to their only child, Karen Lynn Styles, on July 28, 1972. 
The Styles family lived in Candler, North Carolina.
Karen brought absolute joy to her parents. When she was around nine months old, her mother would place her in her car seat next to her father as Thad Styles watched the San Francisco 49ers on television. When football legend Joe Montana joined the 49ers in 1979, Styles, then 7, watched Montana's first game and was already a football expert, telling her father, "He's going to be a good quarterback." 
Styles was a beautiful, kind-hearted, intelligent young woman who deeply loved her parents. In high school, Karen was an honor student in several clubs and organizations. She was also on the track team and yearbook staff.  She graduated from Enka High School in 1990.
During college, Styles helped develop a new program for disabled people, held down three jobs, and still made the Dean's List. She worked at a Girl Scouts Camp during the summer of 1991 and was certified in ropes courses and rafting the Nantahala River. Styles received a Bachelor of Science in therapeutic recreation from Western Carolina University in Cullowhee in 1994.
After college, Styles landed a job with a state-run boys' wilderness camp in South Carolina that expanded to include girls. She was supposed to help develop the program.
She was excited to start her new job where "she would be on seven days on and off seven days, living in a platform tent with a sleeping bag," her mother said.  
Styles returned to Candler the first week in August 1994 after completing a 12-week internship on July 31 at a Montana wilderness camp. She worked part-time at Maurice's in the Asheville Mall.
Styles oved the outdoors and often went biking or jogging in Pisgah National Forest with her friend Jennifer Olive. She was in excellent physical shape.
On Oct. 31, 1994, Styles, 22, was scheduled to work at 2 p.m. and decided to go for a morning run before work. Olive usually accompanied her in biking or running, but she was unavailable that morning. Styles decided to go by herself.
She donned a T-shirt, running shorts, and shoes. Then, the young woman jumped in her white, four-door Plymouth Reliant and drove to a forest trail in the Bent Creek area of Pisgah National Forest owned by the U.S. Forest Service.
Styles' parents never saw her alive again. When she had not returned home later that night, her parents reported her missing to the police.
The following day, police found Styles' Plymouth Reliant, with keys and wallet inside, in a parking area at the head of the Hard Times Loop Trail.
By 10 p.m., more than 60 searchers scoured the recreational area looking for the missing woman. Their biggest fear was Styles developing hypothermia as temperatures dipped into the 20s that night.
The next day, the car door key Styles kept on her during a run was found in the dirt along the trail 200 yards from her car.
Search and rescue dog teams found "hot spots," indicating her scent, in the areas Styles was known to have run, but they led nowhere. Divers searched the dam end of Lake Powhatan and found nothing.
Authorities spent several days searching for the missing jogger. Her parents distributed missing person flyers with her picture and description all over the area, but nothing brought them closer to locating her.
Police theorized Styles was likely abducted and taken out of Pisgah National Forest.
Around 10:30 a.m. on Nov. 13, 1994, wildlife officer Tim Sisk found a bloody T-shirt and called federal authorities, who remained tight-lipped on the discovery. It is unclear if it was confirmed to be Styles', but the search for her would end grisly.
A deer hunter found Styles' partially clothed remains around 1:30 p.m. on Friday, Nov. 25, 1994. She was duct-taped to a small tree down a steep embankment off a dirt service road about a mile from her car.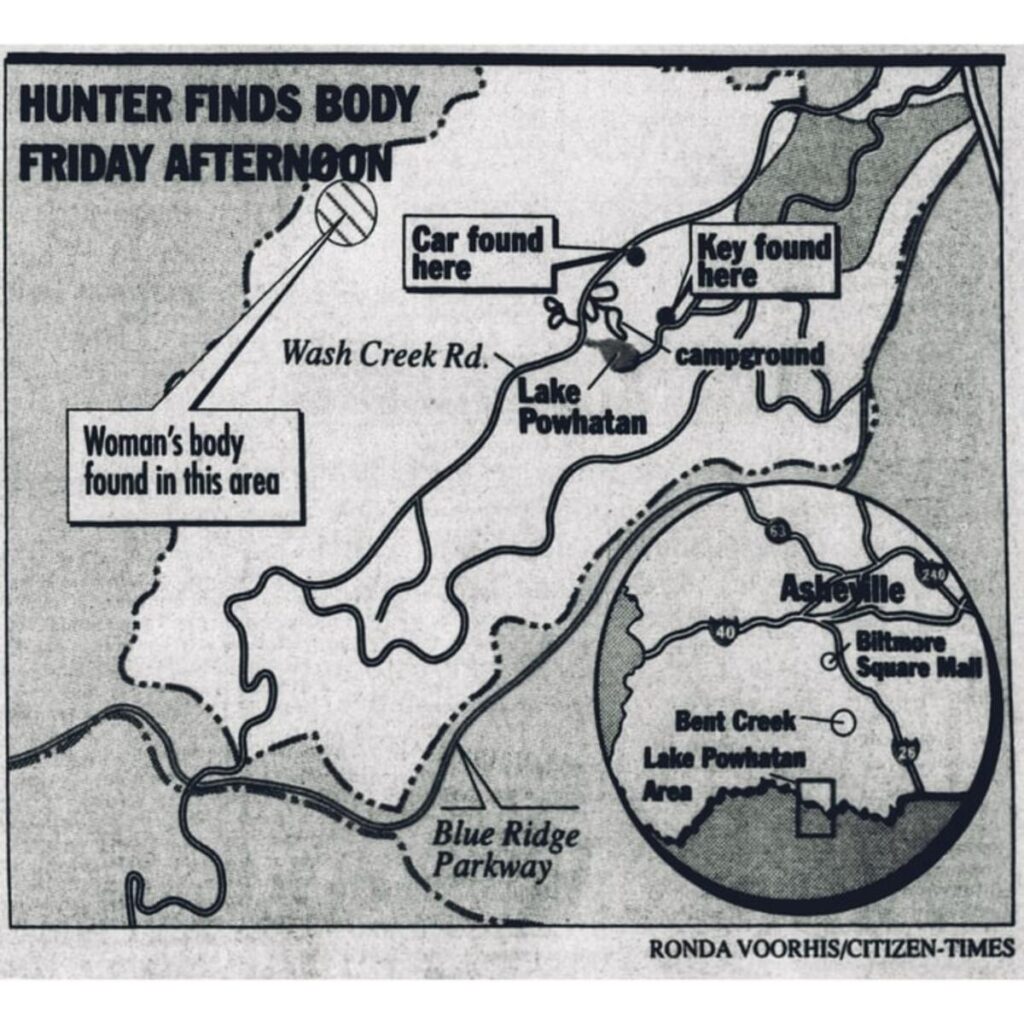 Teams had already searched that area, which left some wondering if Styles' body had been placed there afterward. However, the dense, steep terrain prevented authorities from finding her. The deer hunter had been about 100 feet from her earlier and did not see her.
Style's body was transported to North Carolina's Medical Examiner's Office in Chapel Hill, where identification was made through dental records. The autopsy determined she died from a single gunshot wound to the head. Due to decomposition, the medical examiner could not determine whether she had been sexually assaulted.
Styles' parents were devastated over losing their only child and never lost hope she would be found alive. 
---
On Tuesday, Dec. 20, 1994, police arrested Richard Allen Jackson, 25, and charged him with first-degree murder, first-degree rape, and first-degree kidnapping.
While investigators never said what led them to Jackson, they stated he confessed to killing Styles when questioned.
On the day of Styles' murder, Jackson drove to the Bent Creek area around 8 a.m. He said he had been going there for several weeks. 
Jackson was sitting in the parking lot in his father's station wagon, looking at pornographic magazines, when he spotted Styles exiting her car and stretching before her run. 
Jackson grabbed his gun and some duct tape and followed Styles on the trail, approaching her with the weapon drawn. When Styles realized what was transpiring, she begged Jackson to take her car and money and not hurt her.
Instead, Jackson led Styles off the trail into the forest. He duct-taped her to a tree and covered her mouth with the duct tape. Jackson ripped her shorts and underwear off and raped her. Then, he stepped away, grabbed a pornographic magazine, and masturbated in front of her. Reports also say he shocked her with a stun gun multiple times. 
Styles managed to remove the duct tape from her mouth and started screaming. Jackson shot her once in the head, killing her.
He did not know Styles or stalk her before shooting her, police said.
---
Jackson was married with two small children. When he was six, J.D. Jackson Jr. and his wife, Sally Jackson, adopted him after fostering the boy for several months. J.D. Jackson, a well-known real estate broker, civic leader, and former county commissioner, said he and his wife raised Jackson with good values in a loving environment. 
Jackson graduated from Asheville High School and left home shortly after his 18th birthday. He later married Jeri Donna King, and they had two children together.
J.D. Jackson bought Mountain View Restaurant in June 1993, and Jackson worked there as a dishwasher. People described him as a good person who always "spoke kindly of his wife and kids." The restaurant was only a couple of miles from Lake Powhatan.
Jackson had a minor criminal past involving a trespassing conviction in 1989 and traffic violations.
A North Carolina state jury convicted Jackson of first-degree murder, first-degree rape, and first-degree kidnapping in the Styles case. A judge sentenced him to death on Nov. 22, 1995.
Three years later, "the Supreme Court of North Carolina vacated Jackson's convictions and sentence after determining that the police violated his Miranda rights when interrogating him," WPDE reported.
After police questioned Jackson in Styles' murder, he told his father:
"They told me I did it. They pounded on me." J.D. Jackson clarified that his son meant verbally, not physically, and Jackson was distraught; his father could barely understand him.
Jackson also told his father that the police would not let him use the phone and that he did not need an attorney when he asked for one. 
Newly-elected Sheriff Bobby Medford claimed Jackson voluntarily showed up at the station for questioning, which lasted about 45 minutes.
"He was cooperative. It was a friendly atmosphere," Medford said. 
However, the court ruled in 1998 that Jackson's confession was inadmissible and should not have been allowed in the original trial. 
Furthermore, when Jackson asked for a lawyer during questioning in 1994, his interrogators should have listened. Medford was one of the men who interviewed Jackson. 
The court ordered a new trial. However, shortly before the second trial started in March 2000, Jackson pleaded guilty to second-degree murder and related offenses. A state court sentenced him to 25-35 years in prison.
According to the WPDE, "Jackson appealed the decision, citing new Supreme Court decisions on crimes of violence. 
"On April 20, 2022, a three-judge U.S. Court of Appeals for the 4th Circuit ruled unanimously against an appeal by Jackson. The court concluded he should face the death penalty for the murder."
Judge Diana Gribbon Motz said:
"He contends that the Government failed to prove that he committed a "crime of violence." He is wrong. The jury unanimously found Jackson guilty of federal premeditated first-degree murder, which constitutes a qualifying "crime of violence." Accordingly, we affirm the district court's denial of Jackson's successive 2255 motion."
Jackson is currently in a federal prison in Terra Haute, Indiana.
Authorities believe Jackson might have been responsible for two unsolved murders similar to Styles'.
Beverly Sherman, 17, was shot in the head on Jan. 20, 1987. Her friends last saw her at 4 p.m. entering a small yellow automobile driven by an unidentified white male behind the Asheville Civic Center. Police found her body on April 26, 1987, near the steep hill on Vance Gap Road.
Pamela Michelle Murray, 23, disappeared on Valentine's Day, 1987, from the parking lot of the Asheville Mall. Her body was found later that day on an isolated section of River Road near the Asheville Recreation Park. 
Murray's vehicle was used to transport her there, and she was shot while attempting to flee. Her killer later returned the car to the mall's parking lot.
Sheriff Medford remained in his position until 2006 when he lost to Van Duncan. Medford was a corrupt cop "who pressured witnesses for testimony or his own detectives to make a case, sometimes on flimsy evidence or witness accounts in murder investigations," according to John Boyle of the Asheville Citizen-Times.
Medford died in a federal prison in June 2020 after contracting Covid-19. He had served 14 years of a 15-year sentence on "corruption and extortion charges for accepting bribes from illegal video poker operators in exchange for allowing their businesses to operate," Boyle wrote.
---
Karen's father, Thad Styles, died from cancer on Nov. 25, 2010.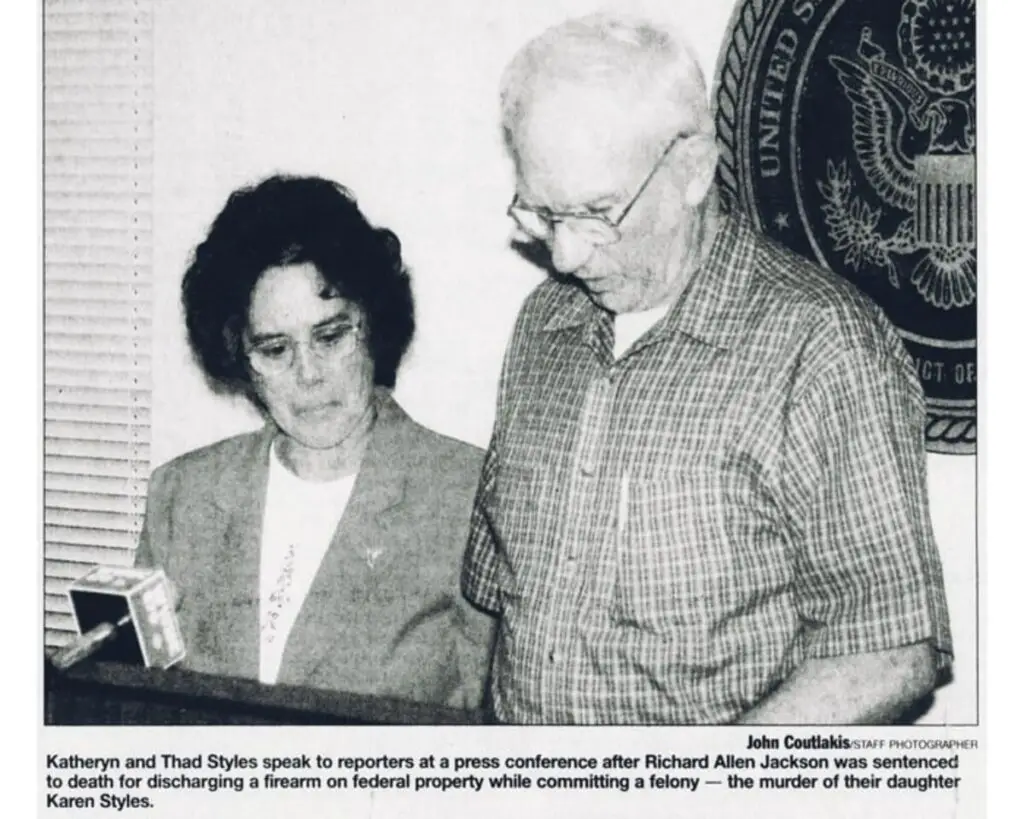 [ad_2]

Source link